Kerala floods: Troops rush in to help rescue efforts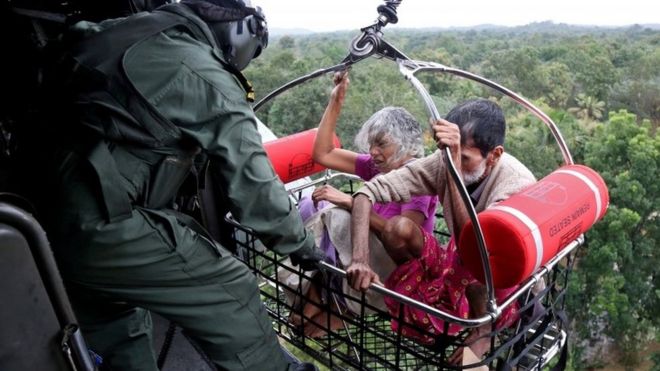 India's army is stepping up efforts to rescue thousands of people stranded by flooding across India's southern Kerala state that has killed 324 people.
Hundreds of troops, and dozens of boats and helicopters are helping to evacuate people from what officials say is the worst flooding there in a century.
Many people are still believed to be trapped on rooftops of flooded homes.
Prime Minister Narendra Modi earlier flew over the worst-hit sites and met state officials to discuss the crisis.
Weeks of heavy monsoon rains triggered landslides and floods, with more forecast and a red alert in place. Strong winds are also predicted for Saturday and Sunday.
Across India close to 1,000 people have been killed in the current rainy season, which began in June, officials say.
How bad is it in Kerala?
Kerala's chief minister, Pinarayi Vijayan, says the flooding is the worst the state has seen in 100 years.
He told reporters that more than 223,000 people were now living in more than 1,500 emergency relief camps set up in the area.
There are also fears that many people remain stuck on trees and rooftops – NDTV says the number is in the thousands, but other news sites puts the figure in the hundreds.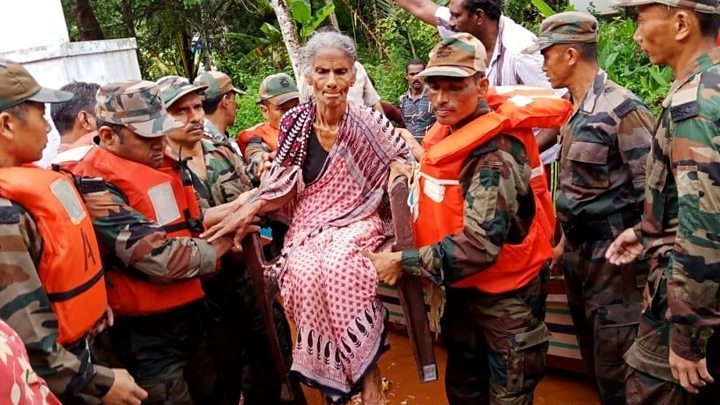 According to The Times of India, at least 10,000 people are stranded in one village alone after all surrounding roads were submerged.
People who are stuck without electricity and supplies have been resorting to social media to appeal for help and say they have been unable to contact rescue services.
Parts of Kerala's commercial capital, Cochin, are also under water, snarling up roads and leaving railways across the state impassable.
What is being done?
Hundreds of troops backed by military helicopters are involved in a huge rescue effort.
"We are deploying more boats and the army to ramp up rescue operations," state government official PH Kurian told AFP news agency.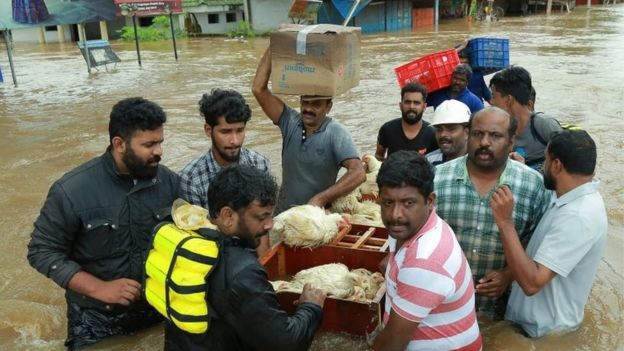 The Times of India said 51 navy vessels and 23 military helicopters had been deployed.
Helicopters have airlifted emergency supplies to many areas and a special train that carries drinking water has been sent to the state.
Prime Minister Modi flew to Cochin early on Saturday where he chaired a meeting of officials, before conducting an aerial survey of the worst affected areas.
The international airport there is closed because of flooding on the runway.