Jaguar Land Rover boss: Brexit threatens £80bn UK investment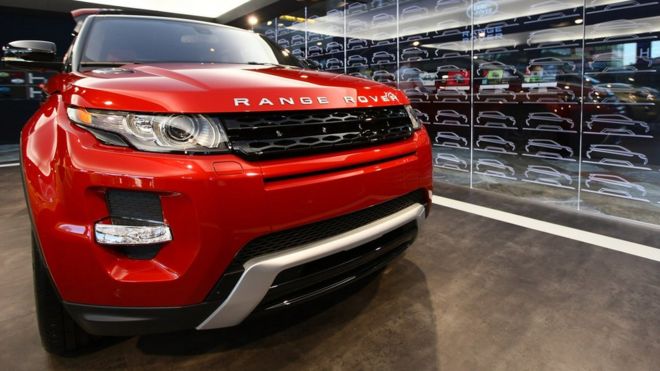 Jaguar Land Rover has warned that a "bad" Brexit deal would hit its profits and threaten its £80bn investment plans.
The UK's biggest carmaker, owned by India's Tata Motors, said its "heart and soul is in the UK".
But it said that without frictionless trade its UK investment plans would be in "jeopardy".
The warning came as Downing Street set out detail of a possible post-Brexit customs arrangement.
Jaguar Land Rover chief executive Ralf Speth said: "A bad Brexit deal would cost Jaguar Land Rover more than £1.2bn profit each year.
"As a result, we would have to drastically adjust our spending profile; we have spent around £50bn in the UK in the past five years – with plans for a further £80bn more in the next five.
"This would be in jeopardy should we be faced with the wrong outcome."
Mr Speth said the firm "urgently need[s] greater certainty to continue to invest heavily in the UK".
The car maker has about 40,000 UK-based employees.
Separately, in a letter to Prime Minister Theresa May and EU chief negotiator Michel Barnier, the British Retail Consortium (BRC) warned that a lack of frictionless trade would see customs delays for perishable goods.
"Failure to reach a deal – the cliff edge scenario – will mean new border controls and multiple 'non-tariff barriers', through regulatory checks, that will create delays, waste and failed deliveries," the BRC said.

Analysis: 'Heart and soul' at risk
BBC business editor Simon Jack
JLR may be Indian owned but its brand – and as the company puts it – its heart and soul is in the UK.
It employs 40,000 people directly and 260,000 work in its supply chain. JLR's warning follows those of Airbus, BMW and Nissan who have all said further investment in the UK is "under review" and could be cancelled if the country leaves the EU without a deal that ensures frictionless trade.
JLR insiders say £80bn worth of future investment in the UK over the next 5 years "could be lost".
The intervention of such a major employer – which in many ways is rightly perceived as more British than the likes of BMW, Airbus and Nissan – will heap more pressure on the government ahead of a crunch meeting of government ministers on Friday at which business hopes the government will finally settle on its own preferred version of the UK's future economic relationship with its largest market.

"The consequences of this will be dramatic for UK consumers. It is likely that we will see food rotting at ports, reducing the choice and quality of what is available to consumers."
Business Secretary Greg Clark said the government was "determined" to make sure JLR could "continue to prosper and invest in Britain".
The Jaguar Land Rover warning follows similar statements from BMW and Airbus.
After those warnings in June, Health Secretary Jeremy Hunt said the threats were "completely inappropriate".