Why scientists are counting seal pups in the Thames Estuary
Sixty years ago the Thames Estuary was regarded as "biologically dead" and largely devoid of wildlife.
But, in recent years seals have returned to the Thames as well as to the coastal and low-lying lands bordering the estuary.
Last year, scientists recorded more than 3,500 harbour and grey seals.
Now, they are starting the first count of seal pups to see how important the area is a breeding ground.
"These seals are higher predators in the estuary," says Thea Cox, conservation biologist at the Zoological Society of London.
"Knowing how many there are is a really good indicator of the health of the estuary, what habitat is available to them, what food source is available to them."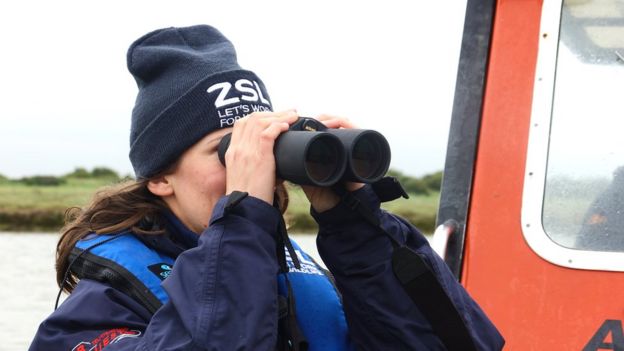 Just a short boat ride from Ramsgate, we come across a colony of seals basking on a sandbank.
Some lie on the spits of sand lazily waving their flippers, while others swim towards our boat, showing off their diving skills.
"To understand particularly how many pups they are having will tell us about the reproductive potential of the population," says Thea Cox.
"It will add to the existing baseline that we have from five years of population surveys – a really good piece of new information that we will be gathering this year."
Vital habitat
She studies the seals with binoculars, pointing out the two species of seal resident on this river. Most are harbour seals (also known as the common seal), while a few are grey seals, which are larger and have a longer, flatter nose.
Some of the harbour seals are about to give birth. ZSL biologists will be searching for new arrivals from land, air and sea over four days from Sunday.
The survey is taking place across the Greater Thames Estuary, which includes parts of the Kent and Essex coasts.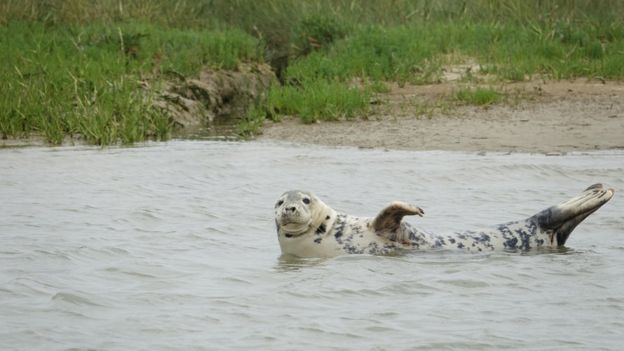 ---
Why this story matters
Seals have been gradually returning to the UK coastline since seal hunting was banned in the early 1970s.
Numbers have risen in the Greater Thames Estuary and off the east coast of England.
But there are a number of emerging threats, including plastic pollution and competition between seals for food and habitat.
And an outbreak of a virus in 2002 led to the loss of nearly a quarter of harbour seals off the east coast of England.
---
"We've seen numbers increase, which is brilliant news, but that's not to say they still aren't subject to threats," says Thea Cox.
"Those could be from major construction projects in the estuary, dredging projects and general disturbance from human use of the estuary."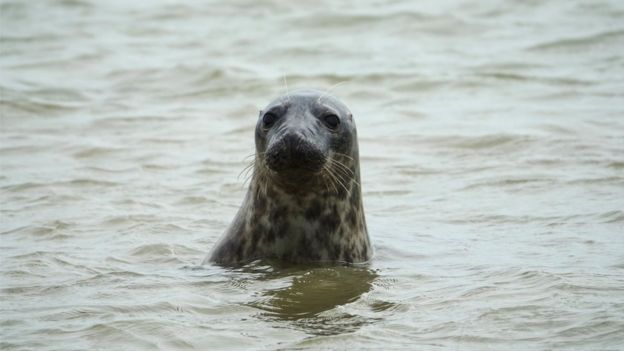 Our boat's skipper, Stuart Barnes, has been spotting marine wildlife for a decade. He saw pups near here for the first time last year, suggesting this could be an important breeding site.
"It proves that the environment is actually getting cleaner," he says.
"It's good to see that the waterways are actually nice for them. Once upon a time, with several industries around then, the seal population did die off; that's due to distemper as well as general pollution in the rivers."