KCR to launch Rythu Bandhu scheme with eye on 2019 but activists remain skeptical, say it favours rich
A year from now, remember 10 May, 2018, if you need to put your finger on the date K Chandrasekhar Rao (KCR) started his election campaign for a second term in 2019. Because starting Thursday, KCR, over the next week, will be wooing 58 lakh farmers and handing over Rs 8,000 per acre in two installments every year for every crop cycle.
"This is a very good move as the money will act as seed capital", says Chengal Reddy, chairman of the Federation of Farmers Associations.
Rythu Bandhu (friend of the farmer), as the ambitious agrarian outreach of the Telangana government has been christened, claims that in 100 days between September and December 2017, it made 93 percent of land litigation-free in Telangana. Revenue officials said that translates to 1.43 crore acres of land in Telangana, excluding Hyderabad, where gram sabhas in every village verify claims and counterclaims.
In February, Arvind Subramaniam, Chief Economic Advisor to the Government of India, lauded the exercise. "Land purification campaign is the heart of good governance. It can be taken up by Harvard University as a case study", he said.
On the ground, however, agriculture activists dub it an unrealistic claim. The government said when the exercise was launched, the number of land under litigation was estimated to be 35 percent. Activists doubt if the jump from 65 percent to 93 percent has indeed occurred on the ground or just on paper.
"Once it is a disputed case, you need to hold a hearing for each dispute. It is like a separate court case", said agriculture activist Kiran Vissa. Besides, there are close to 11 lakh acres for which there are no legal documents but sale deeds written on white paper. Anecdotal evidence suggests a lot of them are still unresolved and not converted to legal sale deeds during the 100-day period.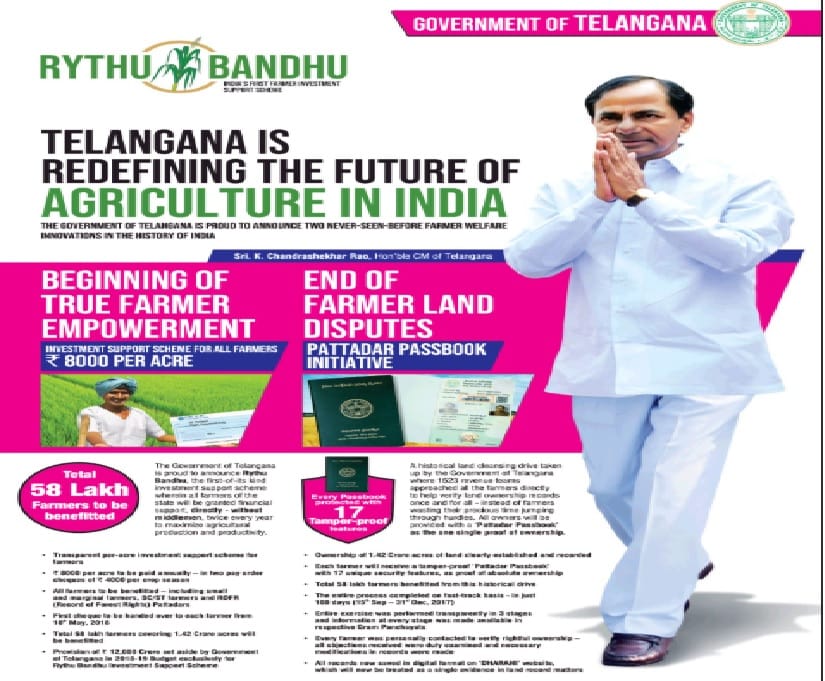 The more important question is: How effective would this direct cash transfer be in mitigating rural distress? On the face of it, transferring Rs 8,000 directly to farmers to help them and thereby stop them from approaching moneylenders is a laudable idea. But take a closer look: 90 percent of Telangana's farmers are small and marginal farmers, and own less than 5 acres of land. Most of them are also tenant farmers — around 15 lakh — as they take more land on lease to cultivate. This scheme does not pay Rs 8,000 to tenant farmers, thereby excluding a large segment.
"Of the Rs 17,000 crore of agricultural credit given by public sector banks, 25 percent goes to people settled in Hyderabad who own agricultural land in Telangana districts. I suspect this Rs 8,000 will meet the same fate: Landowners will get the money rather than those that cultivate. This scheme, ideally, should incentivise those that farm. Instead, it will incentivise people to buy land", said agriculture scientist GV Ramanjaneyulu,
But KCR was clear: Tenant farmers will not be part of the largesse. "Most tenant agreements are oral. The government is not a party to the decision to lease land. If we get into it, it will only lead to legal complications. Besides, tenants and terms and conditions can change every year, every crop season. How can the government keep track?" asked C Parthasarathi, Agriculture Secretary of Telangana.
The scheme also seems to favour rich farmers, with no limit to how many acres of land can qualify for the dole. For instance, a farmer having up to 50 acres, besides getting money from his tenants, will pocket a tidy sum of money. Then there is the basic dispute over numbers. The Congress points to last year's agriculture survey conducted by the government which said there were 45 lakh farmers in Telangana who owned 1.24 crore acres of land.
"Now, the government says 58 lakh farmers own 1.39 crore acres. How is there a mismatch in figures? Where did the extra 13 lakh farmers, to whom the cheques are being issued, come from?" asked D Sravan of the Telangana Congress. Sravan raises doubts over whether there is a passbook scam. The government claims the survey was incomplete and did not count all the farmers.
Opposition parties said it will be difficult for them to oppose the scheme as it would be construed as anti-farmer. Privately, they claim that in an election year, Rythu Bandhu resembles a vote buying scheme. The real test for the State will be to ensure that there is a reduction in the number of farmers resorting to the extreme step, under duress. Telangana figures in the top three states, along with Maharashtra and Karnataka, when it comes to farmer suicides.